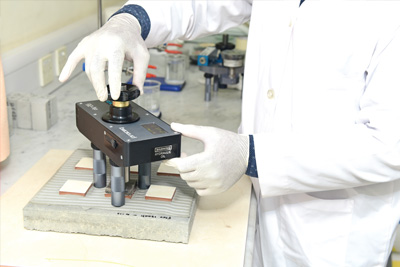 "Baufix" is a leading manufacturer for premium quality Tile Adhesive & Tile Grout products combining latest German technology with the regional high-quality raw materials. We offer premium high quality products, advanced know-how, timely technical assistance and unlimited customer service. We are able to meet most challenging product requirements to provide effective solutions to the specialty construction market and building industry. We achieve customer satisfaction through quality management, high technical expertise and quality services on a wide range of Specialty dry mix products. The advanced state-of-the-art automated plant ensures a continuous control over the production process assuring constant quality of the products offered.
Quality
Our quality standards are ISO 9001:2015 certified. Raw materials and finished products are subjected to strict quality control checks by the QC department ensuring confirmation with international product specifications as per BS EN & ANSI standards. In-house technical lab is equipped with all equipments required for the testing of raw materials and finished Specialty products.
Support
In construction industry the technical support plays an important role.We offer experienced and dedicated on time technical team to support our customers. The premium quality of the products and technical services ensure the total customer satisfaction to meet most challenging expectations. Our support is distinct by the continuous development producing high quality products and technical services with more than decade of experience in the region.
Eco-friendly
An Eco-friendly company dedicated towards a clean work environment and LEED products. The company is committed to produce eco-friendly LEED complied products by harvesting regional raw materials and dust free manufacturing process.
Advantages of Baufix
Quality
Eco-friendly products
Regional product design & development
Regional technical support
Premium product range
Prompt service & delivery
Specialized
Quick response technical team